Are You Ready To Discover Croatian Dalmatia
With Boat Tours From Split?

BLUE SHARK TOURS COLNAGO OPEN
new-blue-shark-tours-from-split-speedboat.webp
BLUE SHARK TOURS BLUE CAVE
BLUE SHARK TOURS FROM SPLIT
BLUE SHARK TOURS SNORKELING
Are You Ready To Discover Croatian Dalmatia
With Boat Tours From Split?
BLUE SHARK TOURS COLNAGO OPEN
new-blue-shark-tours-from-split-speedboat.webp
BLUE SHARK TOURS BLUE CAVE
BLUE SHARK TOURS FROM SPLIT
BLUE SHARK TOURS SNORKELING
Discover Croatian Dalmatia!
Are You Ready To Discover Croatian Dalmatia With Blue Shark Boat Tours & Transfers?
We will take you on a speedboat tours from Split to the best Dalmatian destinations, carefully selected to make your summer Adriatic adventure unforgettable!
Croatia is a Mediterranean paradise with the most beautiful part of the Adriatic Sea, cleanest in the world with amazing islands and astonishing coastal towns.
Blue Shark day boat tours are unique!
The active and attractive hop of hop excursions with tailored private tours in perfectly safe and comfortable Colnago speedboats will make your summer memorable! Beach parties or swimming, snorkeling, and sunbathing with an exceptional Dalmatian cuisine will spice up every minute with Blue Shark Team. Award yourself with one of our excursions or tours and experience all the attractions of Dalmatian islands, their hidden gems like the Blue cave on island Biševo, Blue Lagoon by Krknjaši islands or Drvenik island - famous Croatian tropical paradise, Stiniva cove on the island Vis, Pakleni islands archipelago and Dalmatian number one destination island and town Hvar!
Blue Shark Private Boat Tours From Split
---
Dalmatia is a beautiful Croatian region. Blue Shark Private Tours From Split will take you to the best spots in Dalmatia to appreciate the natural beauty and cultural significance of the islands and coast. Interesting history, amazing natural beauty, and fascinating people provide unique day boat tours from Split. We are here to help you discover the best Adriatic spots and hidden treasures on the Dalmatian islands and coasts. The Blue Shark team is always available to make suggestions or assist you in tailoring private tours to your specific desires and needs. Our goal is to assist you in creating the best vacation memories possible

On the Blue Shark speedboats, Dalmatian Mediterranean finger food will be waiting for you!
The City Of Hvar
ONE OF THE MOST POPULAR TOWN IN DALMATIA
Stiniva Cove
THE AMAZING BEACH AND COVE
Blue Cave Biševo
UNIQUE CROATIAN ATTRACTION
Golden Horn Beach Brač
THE IMPRESSIVE SYMBOL OF BOL
Blue Shark Ultimate Day Boat Tours And Transfers From Split
---
Blue Shark brings for all guests a variety of destinations and activities that incorporates the best of Dalmatia.
If you have any individual wishes or places that you would like to visit, yes, you can! Also, use our PRIME transfer services with specially designed offers that include 24/7 service
for guests who want more than a one day boat tour. Combine our PRIME transfers with private tours and excursions in one multi-day experience
with Blue Shark and make the best summer vacation ever! 
ARE YOU LOOKING FOR SOMETHING SPECIAL?
Blue Cave And Five Islands From Split
Blue Cave And Five Island Tour is one excellent sightseeing boat tour well planned with carefully selected destinations, and it's our trademark tour. The excursion allows you to visit the most famous landmarks of Dalmatia like Blue Cave on island Biševo, Stiniva Cove with famous Stiniva beach, Pakleni Archipelago, and island and town Hvar. Blue Sharks tours guarantee fun, action, and lots of free time exploring Dalmatian sights! Enjoy the summer holidays in the best way!
The fleet of Luxury Speedboats
---
Blue Shark fleet has two safe, comfortable, and exclusive speedboats. The boats are equipped with maximum high-quality accessories such as sundecks, Wi-Fi, air conditioning, coolers, and everything that makes them unique and exclusive. A daily boat tour or sea transfer is pure enjoyment that is unmatched by our boats. Croatia is waiting for you! Beautiful blue boats cannot be overlooked on the famous Riva waterfront of the town of Split!
COLNAGO OPEN
COLNAGO CABIN
You'll enjoy Blue Shark Island Hoping Trips From Split!
---
We are a tour company based in Croatia that offers island-hopping trips from Split. Our private day trips and excursions take you to the most popular tourist spots along the Adriatic coast. Some of the most beautiful islands in the Adriatic Sea, such as Hvar, Brac, Vis, Solta, and others, can be seen on island-hopping trips.
During the trip, you can swim in waters that are as clear as glass, visit old towns and villages, try local food and wine, and learn about the Dalmatian region's unique culture. The tours take place on comfortable boats with guides who know a lot about the history and culture of the places they take you.
If you are planning a trip to Croatia and are interested in exploring the islands of the Adriatic, you may want to consider booking an island-hopping tour with Blue Shark Split. 
You will experience:
Sing Up, Be inspired, Travel With Us
Subscribe to our newsletter to receive offers, the best holiday deals, ideas, and travel advice from Split, Croatia and the Blue Shark team.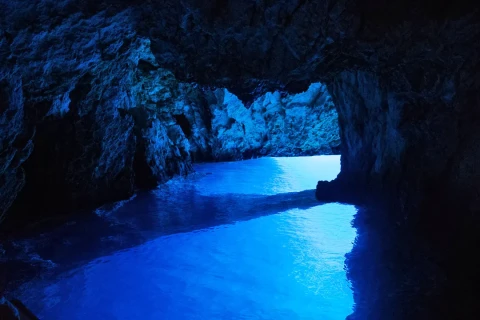 One of Croatia's most visited caves is the Blue Grotto, or Blue Cave, on Bisevo Island near Vis. It is situated in Balun Bay, a small bay. All summer long, thousands of speedboats, sailboats, charter guests, and crowds of tourists on boat tours visit...